Open well submersible pumpset
VIRA Pumps have been involved in developing open-well submerisible pumps are those which are of two types – vertical openwell submersible pumpsets and horizontal openwell submersible pumpsets which are available in various series. All these pumpsets are found to be in different Sizes. However, you must check if these pumpsets best suits to your water supply needs.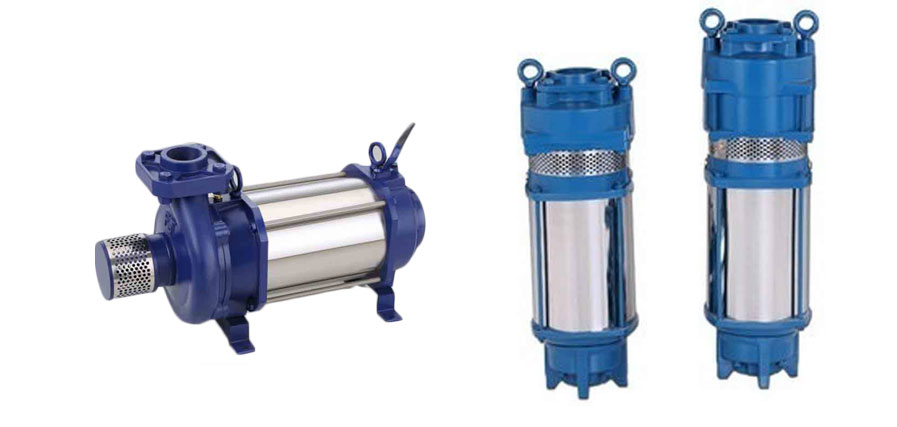 Vertical Multi Stage Openwell pumps
Vertical Open-well Submersible pumpsets have lot more features like easy to install, and are free from noise; also, it is very efficient and needs minimal maintenance and supervision. Also, these vertical pumpsets are available in large numbers that are ready to meet the wide range of agricultural or other operational needs. Apart from these, certain vertical pumpsets are available which needs no foundation. Some pumpsets does not even have any suction and priming problem. The features like the water lubricated bearings and highly durable water cooled rewindable motor are very much adorable.
There are several applications in vertical pumpsets such as the deep (shallow) openwell pumping; also, the vertical pumpsets manufactured by VIRA Pumps assists in river and canal lift irrigation pumping, and some other pumping that includes the irrigation systems which are meant for the agriculture where dripping and sprinkler systems are included. And water supply is provided to the large residential areas as well as for the multi-storied apartments including the public water supply. Some other pressure boosting applications consists of the water supply to the commercial establishments such as the hotels, as well as the lodges and hospitals. Even the dewatering of the mines can be done using this vertical open-well submersible pumpsets. One can also notice the feature of industrial water supply and transfer that is done via these vertical open-well pumpsets.


Salient Features
Energy Efficient submersible motor
Low operating cost
Water lubricated motor with easily rewindable stator
Stainless steel motor body for corrosion free operation.
Optional bronze impeller available on request
Three phase water-filled submersible motor with easily rewindable stator
Applications
Commercial and Agriculture applicatios
Gardens
Irrigation
Domestic water supply
Community water supply services and schemes
Bungalows, Multistoried and High rise Buildings
Specifications
| | |
| --- | --- |
| Range | 2.2 KW to 11.5 kW (3HP to 15.0 HP). |
| Delivery / Suction | 2.5" to 3" |
| Speed | 2880 RPM |
| Total Head | Upto 75 Metres |
| Capacity | Upto 1150 LPM |
| Liquid | Clear water |
| Rotation | Clockwise when viewed from motor end |
| Motor | Totally enclosed water filled squirrel cage induction motor suitable for 415V/3 Ph, 50Hz, AC supply. |
Performance Chart

Horizontal Openwell Submersible pumpset
Even horizontal open-well submersible pumpsets have many applications and good salient features. Such applications are well-designed for the huge voltage fluctuations. And no foundation is needed for this as well. Also, there are no issues of suction and priming, as well as water lubricated bearings. These horizontal open-well submersible pumps have highly durable water cooled and rewindable motor. Besides this, it produces absolutely neutral noise during operation. Along with this, another application is such that, these horizontal systems can be easily dismantled and repaired. While these motors are CE marked with high operating efficiency. Such systems also have the balanced rotating parts such as the rotor and impeller.
Water extraction becomes easy from bores (80mm deeper and above). Along with this, domestic water supply to the big residential and multi-storied apartments and industries becomes easy. These motors are energy efficient and good for the gardening and irrigation. Also, these have the energy efficient radial as well as the mixed flow pumps. All types of customized pumpsets are available at VIRA Pumps; you can approach them for all your water supply requirements.


Salient Features
Rotating parts are dynamically balanced
Bi-axially oriented synthetic film insulated winding wires.
Low watt loss laminations.
Stainless steel body for longer life.
Low power consumption.
Cast Iron Impeller with high head as well as discharge
Applications
Used for water supply in case of wide fluctuation in water level in suction tanks or water supply sources
Gardens
Irrigation
Domestic water supply
Community water supply services and schemes
Bungalows, Multistoried and High rise Buildings
| | |
| --- | --- |
| Range | 2.2 KW to 5.6 kW (3HP to 7.5 HP). |
| Delivery / Suction | 65x65 or 65 x 50  mm |
| Speed | 2880 RPM |
| Total Head | Upto 40 Metres |
| Capacity | Upto 1530 LPM |
| Liquid | Clear water |
| Rotation | Clockwise when viewed from motor end |
| Motor | Totally enclosed water filled squirrel cage induction motor suitable for 415V/3 Ph, 50Hz, AC supply. |
Performance Chart