4" Super Stainless steel Motor (Water Filled)
VIRA PUMPS offers this excellent quality water filled super 4" stainless steel submersible motors which are designed for installation in large wells or 4" diameter. These motors are completely corrosion free and designed as per NEMA standards. The motors can very easily be rewound and repaired.
Features
Complete stainless steel AISI 304 material used for construction.
Water filled 4" Stainless steel motor.
Rewindable wet wound motor with PE insulated windings.
Water lubricated radial and axial thrust bearing.
Counter thrust bearing.
Shaft extension made of stainless steel AISI 316.
High efficiency winding design.
Tropicalized design.
Pressure compensation diaphragm.
Continuous duty.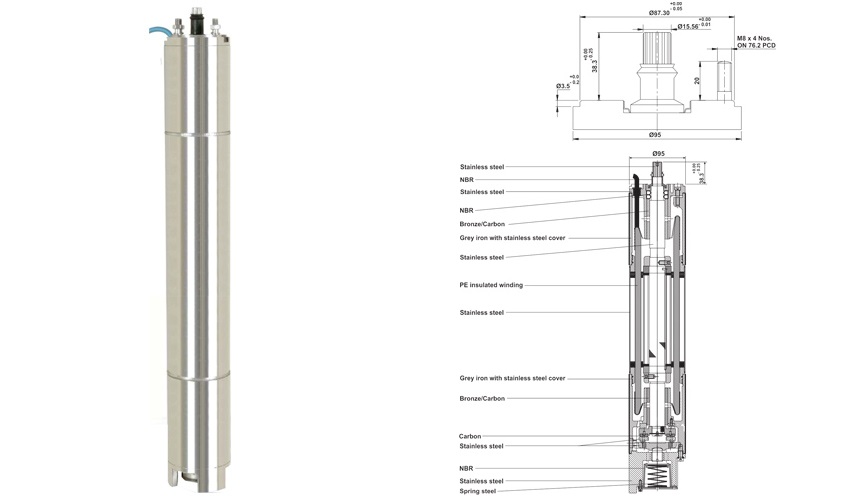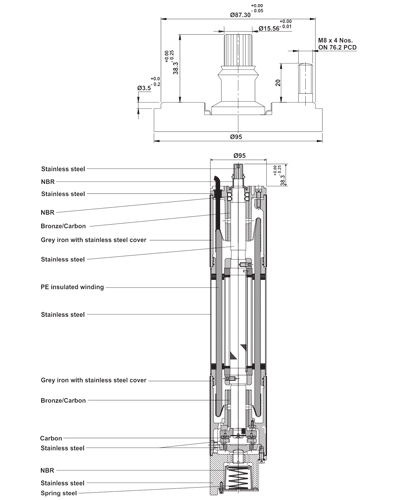 Degree of protection : IP 68
Insulation Class: B
Ambient temperature : 45°C
Minimum Cooling flow along motor:- 30cm/sec (22.0 kW to 37.0 kW) 45cm/sec (45.0 kW to 93.0 kW)
Water pH: 6.5 -8.0.
Maximum number of starts per hour : 30
Maximum submerged depth: 350 mts.
Rotation : CCW and CW.
Ratings : Single Phase:- 0.37 kW – 2.2 kW Three Phase: 0.55 kW – 5.5 kW
Motor protection : Select thermal overload protection with trip time < 10 sec. at 5 x ln.
Special voltages, execution and material versions available on customer's request.
Standard motor cable : Suitable for operation in drinking water.